HAUTE CUISINE AT THE ORSO GRIGIO HOTEL IN SAN CANDIDO!
Discover our gourmet altitude dining in the Dolomites: good food and good wine!
Some of our guests know them personally, others have only tasted their delicious dishes without ever seeing the face behind the food. Now the time has come for you to meet the chefs who are part of our family!
In the center is Head Chef Rocco, on the left is Sous-Chef Alex and on the right is Pastry Chef Alessandro. Whether it's meat or fish, the delicate soups or fresh pasta of the entrées, modern combinations and exquisite flavors are on the menu every night, showcasing primarily locally and regionally-sourced ingredients.
Don't forget the right wine with a wine pairing from our cellar!
Mr. Ladinser can offer you the best advice.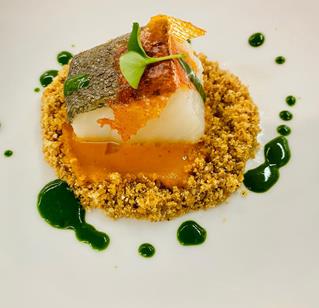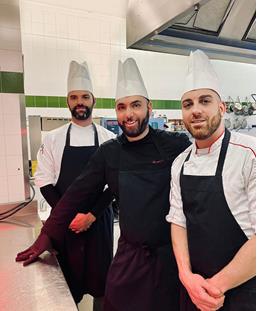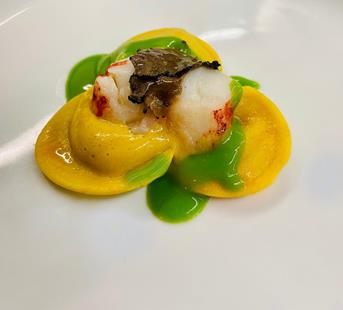 At the Boutique & Gourmet Hotel Orso Grigio, the stove is always hot and our chefs spend hours discussing and creating: tailoring meals for those with food intolerances, celiac disease or special dietary requirements, and developing dishes to accommodate all dietary needs.
Although evening meals follow a specific theme (fish nights, Pusterian, Game & Forest…), there is always a vegetarian choice. With a bit of notice, our kitchen can provide entirely vegan menus!
Write us to find out more!
Dulcis in fundo: Saturdays are a commotion of creativity, sweetness and skill at our dessert buffet. Have you ever tasted a carrot sorbet, a deconstructed Pusterian strudel, a chocolate mushroom creation with pistachio sponge (definitely not poisonous!) ? All the cakes and desserts offered at the café are also the fruit of Alessandro's labor: savoring a Sachertorte with a view of Monte Baranci is priceless!
Our brigade de cuisine and the Orso Grigio Team are here to welcome you